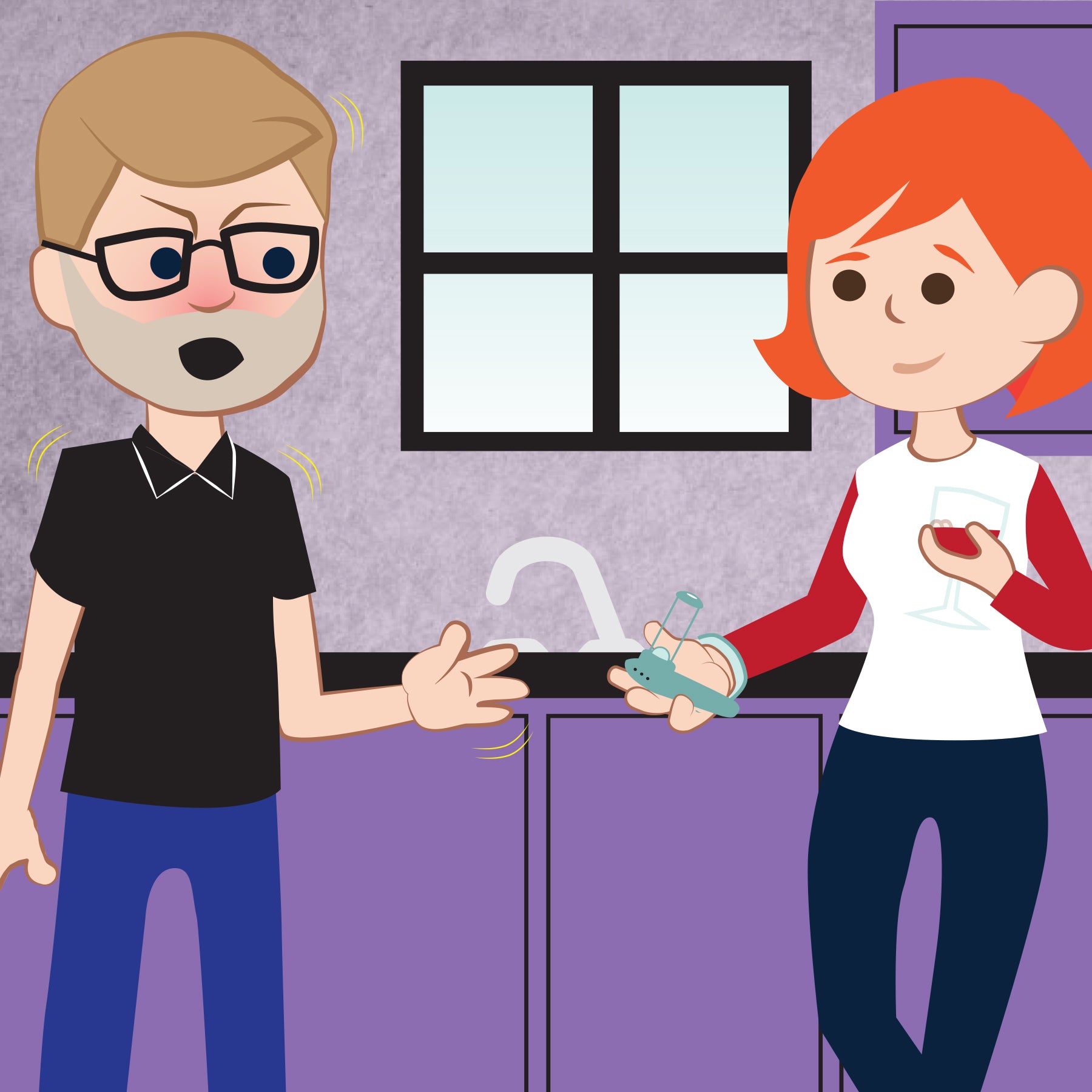 even adults need kälm
Although webe kälm is designed with the intention of enhancing parent-child connections, its benefits extend beyond the realm of children and adolescents. Recognizing the moments when you, as a parent, can benefit from a pause to regain focus is often the initial step in fostering meaningful connections with a child, spouse, or friends.
This principle extends to your overall well-being. Through proactive integration of webe kälm, you not only shift your nervous system to a calmer state but also cultivate a muscle memory for calmness. This, in turn, simplifies the process of returning to a serene state when faced with challenges, akin to effortlessly driving to a familiar destination.
webe kälm - not just for kids
Experience the kälm approach to handling life's challenges
Adults often find themselves at a crossroads, grappling with the complexities of adulthood and the need for autonomy in their decision-making. This can lead to conflicts and confusion in various settings, including the workplace, family, or any organization they are part of. The pressures associated with these situations can be overwhelming, and what may seem like simple decisions to others can feel like life-altering choices for adults.
Adults face a multitude of challenges, encompassing both the intrinsic complexities of daily life and the repercussions of external decisions imposed upon them. Navigating these issues can be demanding, and webe kälm serves as a valuable tool for teaching adults how to effectively manage a range of situations, including the following:

Raising headstrong children who are challenging to connect with can be a demanding and sometimes frustrating experience for parents.
An employee might experience emotional distress due to a recent breakup or feel uneasy when their supervisor assigns them a new project.
Facing a financial setback or navigating a career transition can become significant sources of stress.
Public speaking has always been a daunting fear, but that moment where your stomach meets your throat can be managed with the help of webe kälm.

These emotions are entirely valid, and adults can benefit from using webe kälm to regain their composure and collaboratively manage these challenging situations without exacerbating their emotional state. The positive impact of fostering a sense of calmness extends beyond immediate relief, offering lasting benefits.
each webe kälm purchase comes with the following:

webe kälm - 1x breathe tube and 1x indicator
1x matching anti-microbial stow bag
1x L/XL webe in this together bracelet
1x child webe in this together bracelet

(for bracelet sizing or to order a S/M bracelet add one to cart below)
are there different sizes?

although parents and children will experience it differently by age, webe kälm comes in one size.
it's a webe, not a doobie

webe kälm is a tool to help adults and children learn to calm down. Our mature minds may remind us of similarly shaped items, but we assure you, webe kälm is designed to train children on slow exhalation, not inhalation.
webe kälm is dishwasher safe in the top rack. Simply remove the indicator with the ball and slide the breathe tube and indicator onto the uprights of the top rack. Let it air dry or heat dry. Wash as needed.
Compact and lightweight, it easily fits in your palm. You have the option to use it with or without the indicator depending on your need for discretion. It effortlessly slides into a jean pocket, and the storage bag can snugly fit into a briefcase or school bag.

Breathe tube 4.25" x 1.25" x 7/16"
With indicator 4.75" x 1.25" x 2.25"
---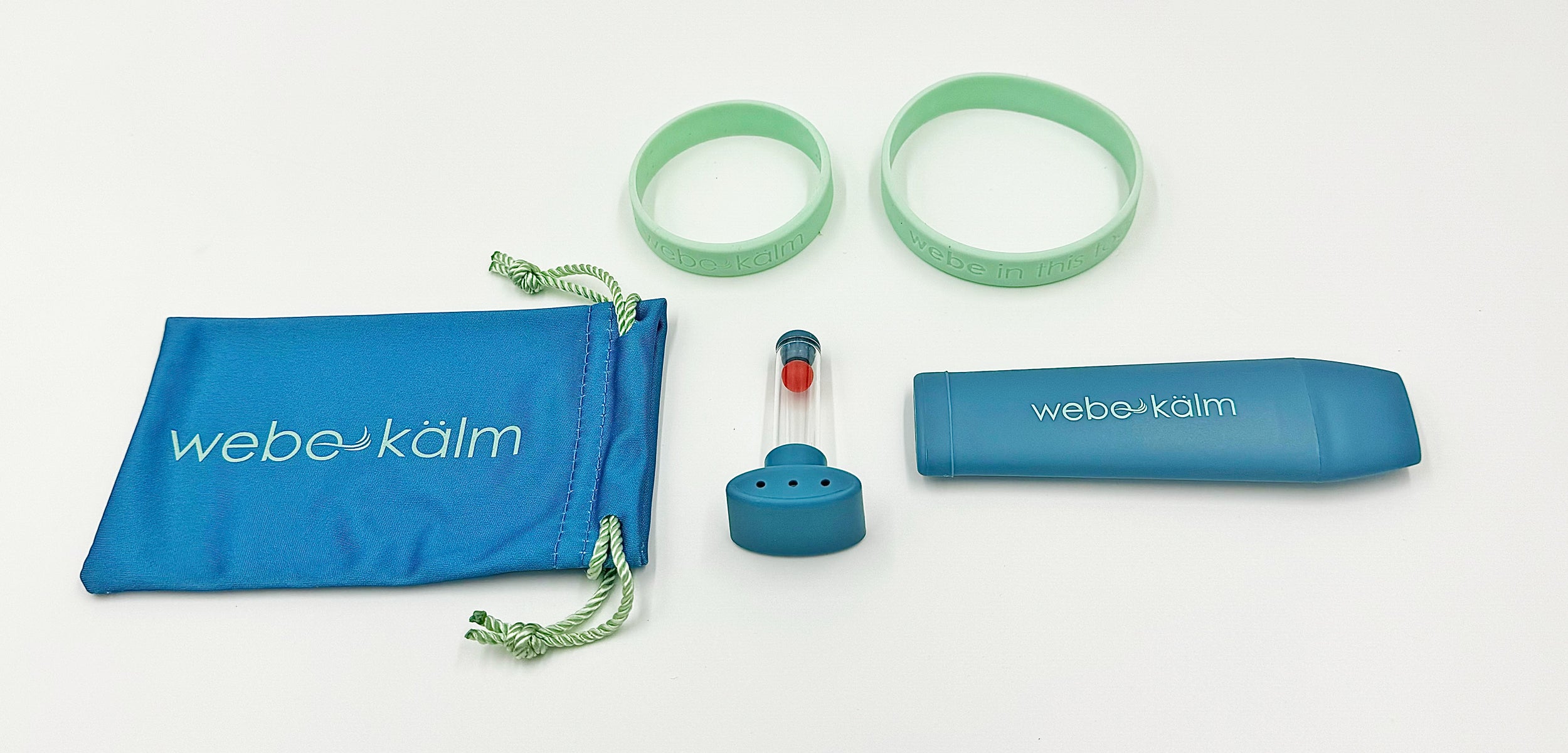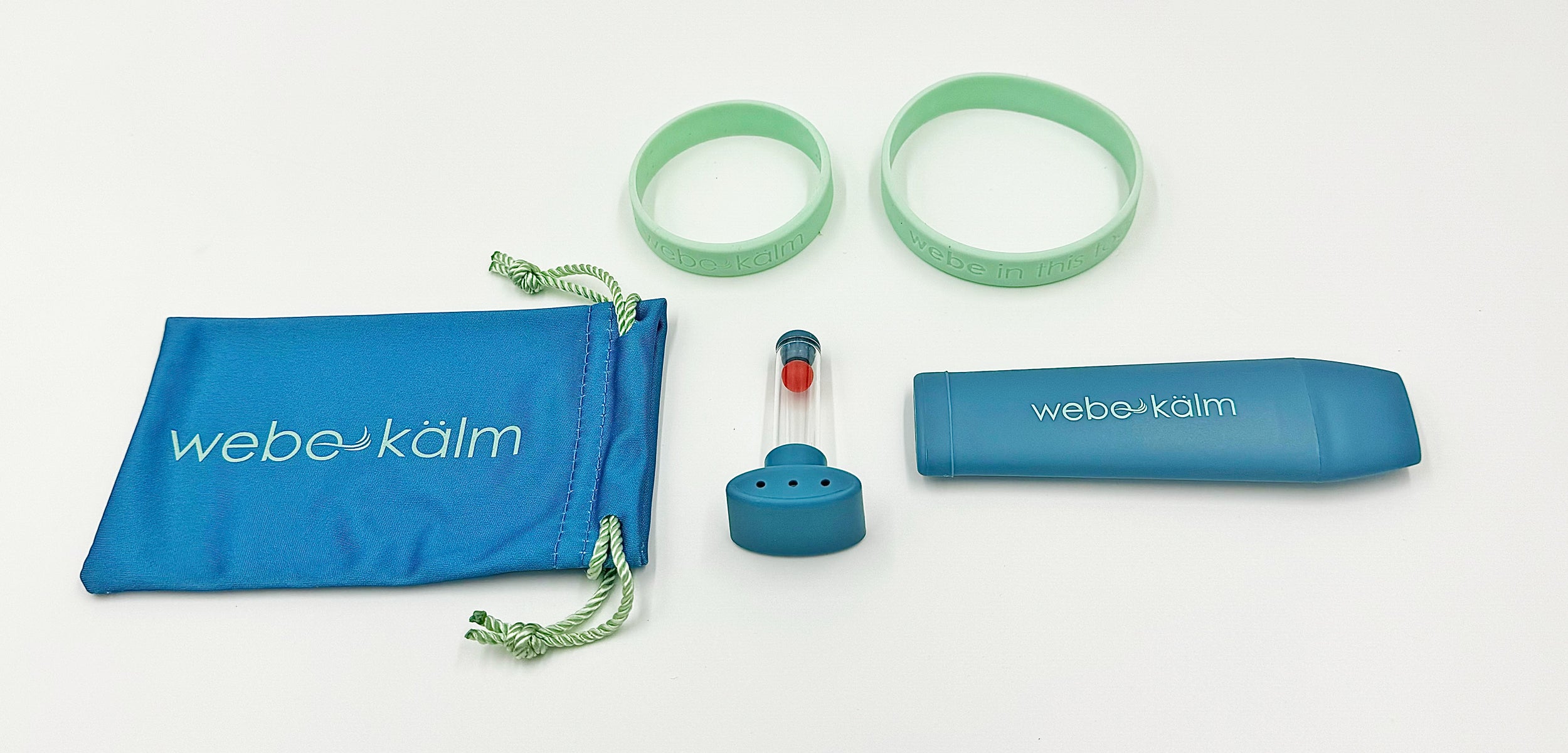 storage on the go
Keep your webe kälm clean and protected by removing the indicator from the breathe tube, placing them in the storage bag, and securing the cords. This allows you to easily carry your webe kälm in a school bag, purse, glove box, or stored in the junk drawer.
"webe in this together" bracelets
Comes with 1 x Child and 1 x L/XL
The most pivotal moment for fostering a strong bond between kids and parents is when they work together. Each webe kälm set contains a child-sized and adult-sized bracelet. These bracelets serve as a constant reminder to find a more constructive approach during moments of frustration.
breathe tube
The ergonomically designed breathe tube enables restful lips to breathe effortlessly into the webe kälm. Insert the indicaot into the breathe tube to observe the visual effects of slow exhalation and listen to the soothing white noise. For a more discreet experience, the Indicator can be used optionally.
indicator
When the correct level of air pressure is blown into the breathing tube, the ball will rise in the indicator. It will remain airborne for as long as you exhale, allowing for visual concentration on the elevated ball.
learn how to find your kälm
how does the webe kälm work?

There is substantial data highlighting three pathways that stimulate the parasympathetic nervous system to generate a sense of inner peace and calm. They are controlled breathing with extended exhalation, visual focus, and auditory regulation.

webe kälm creates a simple method for children to engage all three pathways simultaneously. First, an immediate soothing effect is experienced through slow extended exhalation into the mouthpiece. Next, visual focus on keeping the ball aloft generates mindfulness. Finally, with each exhalation, "white noise" is created in the chamber, reminiscent of natural sounds that trigger neural connections created during fetal development. This cumulative approach helps children connect to their minds and bodies, while filtering outside distractions.

For detailed instructions be sure to check out out our "How to" section.
isn't this just for kids?

We'd like to emphasize that while webe kälm is highly beneficial for kids, it's important to recognize that even adults face challenges when seeking balance and clarity during tough moments. webe kälm provides valuable feedback for activating the parasympathetic nervous system, which is an invaluable tool for individuals of all ages, including children, adolescents, and adults.
how can I get the best results?

This is a collaborative approach. We all know by now breathing, focusing and white noise help to sooth the mind. It is a new tool. You did not learn to write the first time you picked up a pencil. You will not learn how to effectively use the webe kälm without practice.
does it actually help with sleep?

Absolutely. We've all been there – that moment when you wish you were asleep but find yourself with jitters.

webe kälm channels all those stimuli into focused mindfulness, soothing both the mind and body into a state of relaxation.
Mind blown 🤯
I just watched my 11 year old go from full melt down hyperventilating to coherent in 30 seconds. We talked it out and she was back to herself within a few minutes. I'm in utter disbelief. I love this thing on day 5.
I have a new favorite tool
I've been trying to connect to my son for the last 3 years and it's been hard to connect as we both get really upset at each other. We both agreed to try this together and I can't believe how much we have connected in the last few weeks.
It works!
I can't believe this hasn't been done before now. I tell my kids every day to calm down and breathe. I would get varying results. They now do it like pros and I'm able to help them through some of their hardships. I love it! Just wish there were a few more colors.