a tool to help parents and tweens connect during...
Teaching kälm works better than yelling, "calm down!"
webe kälm is a transformative tool designed to teach tweens and adults how to kälm through slow exhalation, visual focus, and auditory regulation (white noise).
When tweens are told to "calm down," it can lead to resistance, as they are navigating rapid hormonal changes and seeking independence. Instead of creating a confrontational situation, webe kälm provides feedback to help tweens achieve calmness, fostering better connections. It's an essential addition to life skills, enabling parents to engage empathetically and collaboratively with their tweens.
Traditionally, adults have advised tweens to "relax," "breathe," or "calm down," but what's needed is teaching them how to achieve these states. webe kälm becomes a crucial addition to the parenting toolkit, facilitating co-regulation and guiding tweens through life's challenges.
Adolescents find themselves caught between the process of maturing into adults and the desire to assert their independence as decision-makers. This often leads to conflicts and perplexity in various settings such as school, home, or any organization they are a part of. The pressures stemming from this situation can be overwhelming for teens, and what may appear as straightforward choices to adults can feel life-altering to them. For instance:

Being bullied by friends at school.
Feeling like they have no freedom can feel suffocating and leave them wanting isolation.
Receiving a disappointing grade on a test.
Dealing with hormone changes. Unsure of why they are in hysterics on occasion.

The list goes on, and these feelings are entirely valid and real.

webe kälm is specifically designed to equip adults with the tools to help adolescents regain their equilibrium in a collaborative manner, without exacerbating their emotional state. It can be used as needed during these challenging moments. The benefits of cultivating a sense of kälm are not limited by time constraints and can have a lasting positive impact.
each webe kälm purchase comes with the following:

webe kälm - 1x breathe tube and 1x indicator
1x matching anti-microbial stow bag
1x L/XL webe in this together bracelet
1x child webe in this together bracelet

(for bracelet sizing or to order a S/M bracelet add one to cart below)
are there different sizes?

although parents and children will experience it differently by age, webe kälm comes in one size.
it's a webe, not a doobie

webe kälm is a tool to help children learn to calm down. Our mature minds may remind us of similarly shaped items, but we assure you, the child calmer is designed to train children on slow exhalation, not inhalation.
webe kälm is dishwasher safe in the top rack. Simply remove the indicator with the ball and slide the breathe tube and indicator onto the uprights of the top rack. Let it air dry or heat dry. Wash as needed.
---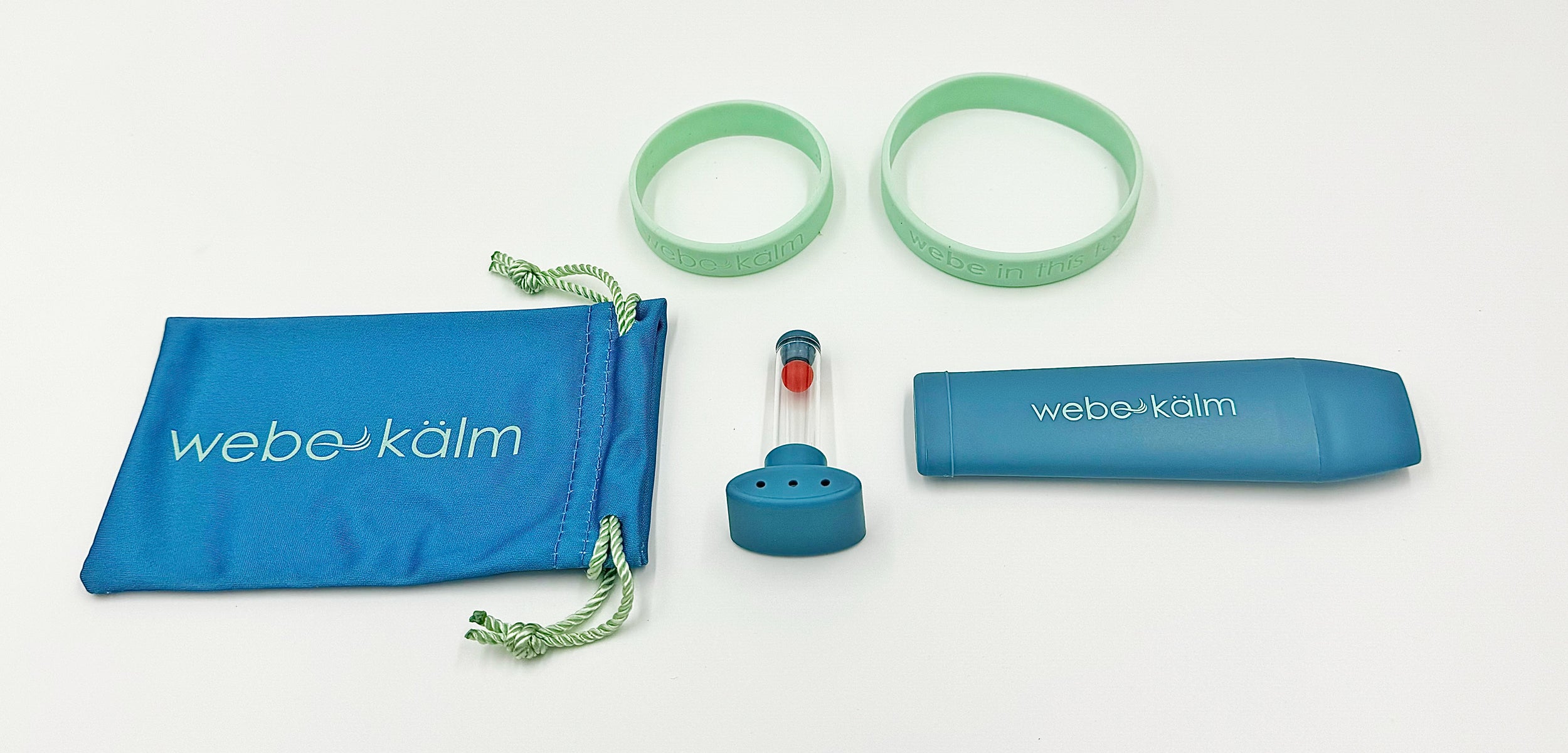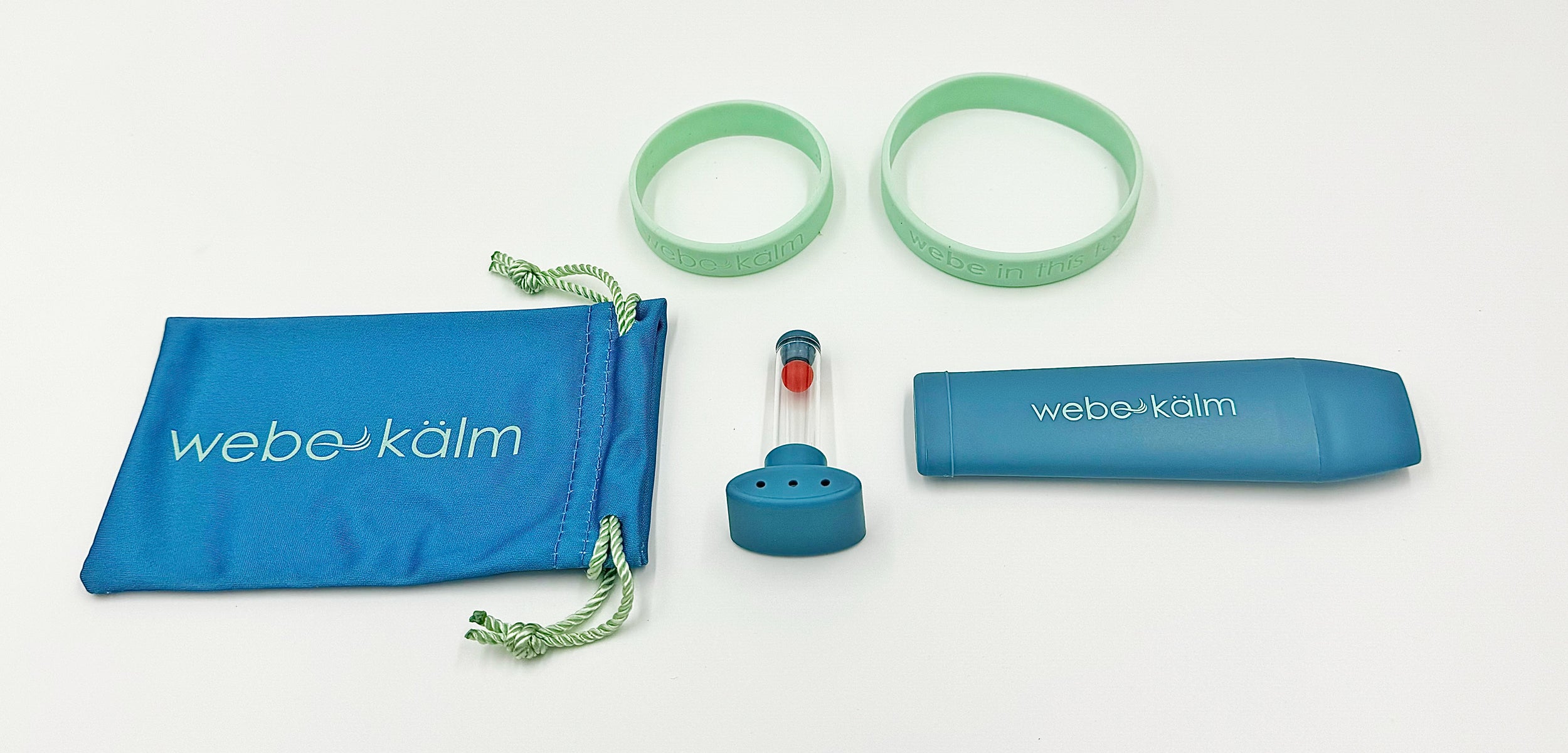 storage on the go
Keep your webe kälm clean and protected by removing the indicator from the breathe tube, placing them in the storage bag, and securing the cords. This allows you to easily carry your webe kälm in a school bag, purse, glove box, or stored in the junk drawer.
"webe in this together" bracelets
Comes with 1 x Child and 1 x L/XL
The most pivotal moment for fostering a strong bond between kids and parents is when they work together. Each webe kälm set contains a child-sized and adult-sized bracelet. These bracelets serve as a constant reminder to find a more constructive approach during moments of frustration.
breathe tube
The ergonomically designed breathe tube enables restful lips to breathe effortlessly into the webe kälm. Insert the indicaot into the breathe tube to observe the visual effects of slow exhalation and listen to the soothing white noise. For a more discreet experience, the Indicator can be used optionally.
indicator
When the correct level of air pressure is blown into the breathing tube, the ball will rise in the indicator. It will remain airborne for as long as you exhale, allowing for visual concentration on the elevated ball.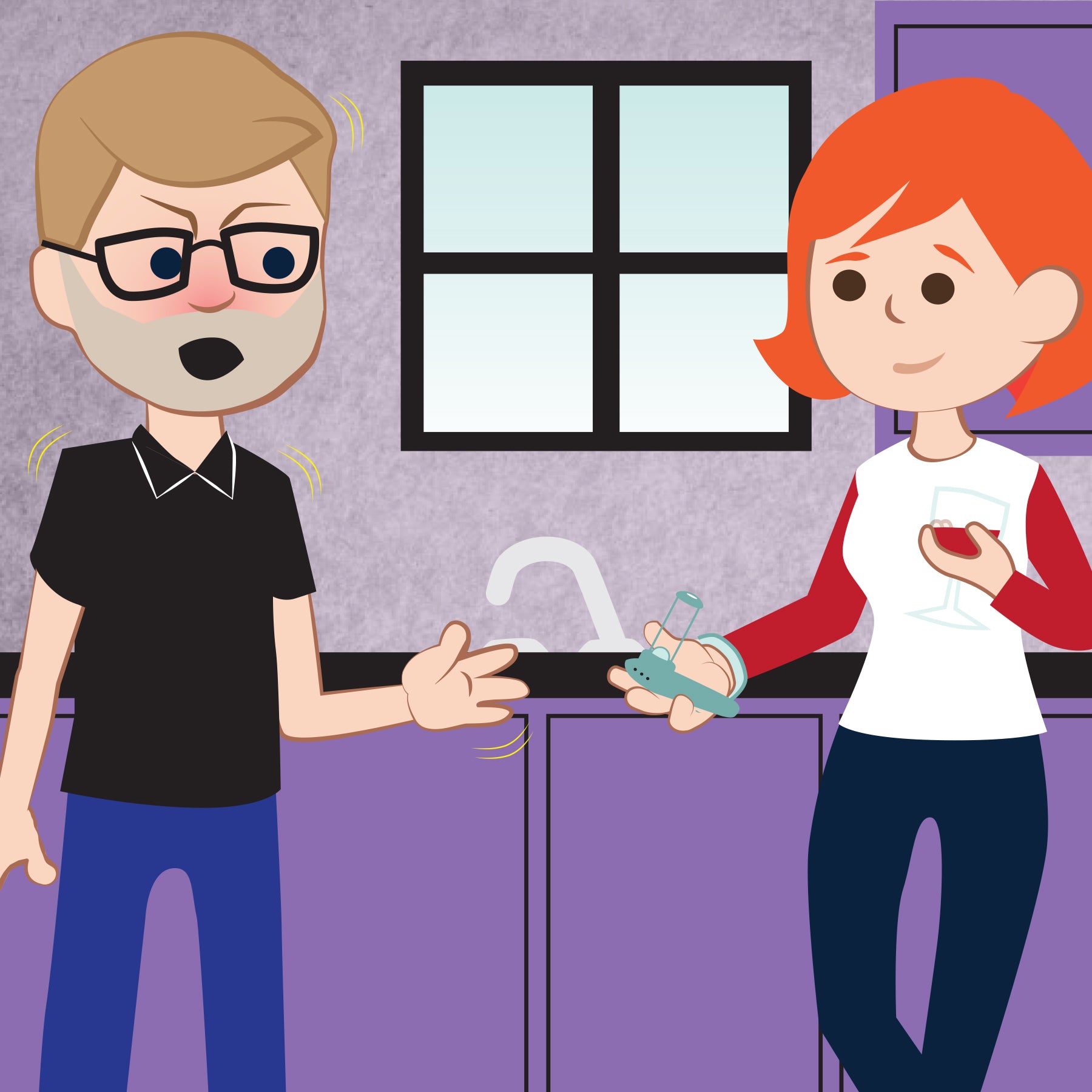 even adults need kälm
webe kälm is most effective when an adult guides a child in using it. You can count and practice breathing with your child or use your own webe, but by breathing in slowly, then exhaling while counting for a child, you not only help them learn how to calm themselves, but you also find your own kälm.
This approach ensures that both you and the child will be in a balanced state for the upcoming conversation.
learn about kälm for adults
learn how to find your kälm
how does the webe kälm work?

There is substantial data highlighting three pathways that stimulate the parasympathetic nervous system to generate a sense of inner peace and calm. They are controlled breathing with extended exhalation, visual focus, and auditory regulation.

webe kälm creates a simple method for children to engage all three pathways simultaneously. First, an immediate soothing effect is experienced through slow extended exhalation into the mouthpiece. Next, visual focus on keeping the ball aloft generates mindfulness. Finally, with each exhalation, "white noise" is created in the chamber, reminiscent of natural sounds that trigger neural connections created during fetal development. This cumulative approach helps children connect to their minds and bodies, while filtering outside distractions.

For detailed instructions be sure to check out out our "How to" section.
how do I introduce the webe kälm to my tween?

Introduce the webekalm with positive language to avoid stimulating shame in "needing" it. Try something like this:

"I've noticed you've been feeling really stressed lately, and I want you to know that I'm here to listen and support you. Is there anything specific that's been bothering you, or would you like to talk about what's been on your mind? If it helps, I heard from some friends about a tool that helps us both find balance so we can connect together in a meaningful way."

This approach conveys your willingness to be a caring and nonjudgmental presence in their life, encouraging open communication and providing them with a safe space to express their feelings.
what are the best ways to get a tween to use the webe kälm?

Once they're comfortable with webe kälm, occasional gentle reminders can be effective when you notice they're feeling overwhelmed. You might say,

"I can see this is really troubling you. I genuinely want to understand, but I'm having trouble following because of the strong emotions. How about we use Webe Kälm to have a more organized conversation where we can better understand each other?"

Over time, they will appreciate the benefits of approaching discussions with a calm mindset and may choose to use webe kälm or its techniques to help themselves stay calm.
how can I get the best results for my tween?

This is a collaborative approach. We all know by now breathing, focusing and white noise help to sooth the mind. It is a new tool. You did not learn to write the first time you picked up a pencil. A tween will not learn how to effectively use the webe kälm without your help.

The first step of breathing slowly in through the nose to fill the lungs. It will take many reminders from adults. Over time though a tween will learn to trust the results and eventually will remind you to use your webe kälm when you are upset!
Can I use webe kälm reactively?

In truth, this is why most parents are trying it. We all recognize the moments when our children are out of balance and want to teach them how to kälm.

Reactive use involves responding to the immediate challenges and dysregulation in the moment, akin to addressing a headache with Tylenol when the pain is already present. While using the webe kalm reactively can offer relief in the moment, it's comparable to addressing symptoms rather than preventing future "headaches." Like keeping Tylenol on hand for potential discomfort, we want the webe kalm available not only when we're in distress but also for proactive use.

Read our FAQ to learn how to proactively use webe kälm as well.
Can I use webe kälm proactively?

YES!!

Proactive use involves employing strategies to prevent or minimize issues before they arise. In the context of promoting calmness, it's like giving your nervous system a soothing "massage" through practices such as slow exhalation, focused attention, and auditory regulation. Similar to nourishing your body with nutrients, using the webe kalm regularly throughout the day is like providing calming messages to build a foundation of calmness. Just as you don't wait until you're starving to eat, using the webe kalm proactively—such as upon waking, before meals, and before bedtime—helps create a familiar sense of calm.

This proactive approach not only tunes the nervous system to a state of comfort but also establishes muscle memory for easier return to calmness when needed. It's an investment in your calm "savings account," ensuring a reserve of calmness ready for withdrawal whenever necessary.
does it actually help with bedtime?

Absolutely. We've all been there – that moment when a tween seems to get a burst of energy right before bedtime. So, how can you help them transition from an overstimulated state to a calm one?

It's simple: webe kälm channels all those stimuli into focused mindfulness, soothing both the mind and body into a state of relaxation.
Mind blown 🤯
I just watched my 11 year old go from full melt down hyperventilating to coherent in 30 seconds. We talked it out and she was back to herself within a few minutes. I'm in utter disbelief. I love this thing on day 5.
I have a new favorite tool
I've been trying to connect to my son for the last 3 years and it's been hard to connect as we both get really upset at each other. We both agreed to try this together and I can't believe how much we have connected in the last few weeks.
It works!
I can't believe this hasn't been done before now. I tell my kids every day to calm down and breathe. I would get varying results. They now do it like pros and I'm able to help them through some of their hardships. I love it! Just wish there were a few more colors.